**We have redacted the name for privacy reasons and will refer to it as German News**
When starting work with German News, both the Editorial and Product Team dedicated significant time and effort to developing the digital strategy.
We created customized Feelbacks for the website, and when we achieved some success we expanded to some of our other emotion tools: the Gallery and Trending.
Feelbacks
With our emotional feedback system, Feelbacks, users are prompted to share their reaction by clicking on one of 5 emotions buttons selected by the publisher. Vicomi records and aggregates all responses into our emotion database.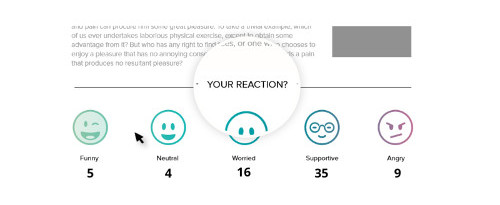 The Feelbacks first aim was to increase engagement on the side by providing a new way for readers to interact with the content.
Engagement Results
---
Average number of users that click:
4.7%
From single-article unique users
4.7% of users that read an article used Vicomi's product
---
Average monthly users that click (Engagement):
19.6% 
From site monthly unique users
19.6% of users click at least once a month and share their emotions.
---
Direct increase in page views (PV).
7.1%
After integrating Vicomi's technology.
Measured with A/B testing
---
Emotion Insights
The Feelbacks also allowed us to collect data regarding users emotional reaction to the sites content. We then analyzed this emotion data to come up with actionable insights for the publisher.
Content Emotion based on Reader's Geographical Location

We found that users seek out different emotions from their content based on their location. In other words readers from certain areas are more likely to look for angry articles while in other areas they are more likely to seek out happy articles.
With this information we worked to personalize content based on users' geographical location
In doing so, we work to ensure that each region is matched with the optimal content for user engagement.
Which Emotion Leads Users to Spend More Time on the Page?

Vicomi's technology found that angry articles led users to read more articles.
Using this information, German News posted the angry articles on dates where they had high revenue campaigns.
This adjustment led to more page views and user engagement to customer campaigns,  leading to higher revenues for the website.
If you are a publisher and would like to find out how Vicomi's emotion tools can benefit your site please contact us at support@vicomi.com